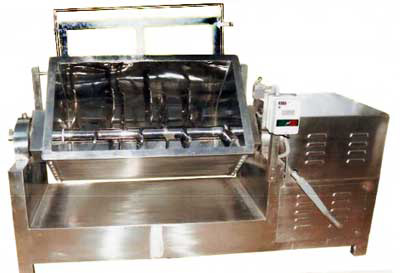 We manufacture better quality of pharmaceuticals equipments that are used for producing powders and particulate in the pharmaceutical industry. The pharmaceutical processing equipment includes low capacity dryers designed for specific potent powders as well as industrial size plants for permanent operation under strict hygiene standards. The product applications include preparation of analgesics, antibiotics, enzymes, proteins, vaccines and vitamins.

Mass mixers are special pharmaceutical machinery used for through mixing of wet as well as dry or lump material, especially suited for tablet granulation. The Mass Mixer Machine is basically mixing an assembly wherein the mixing stirrer is in horizontal position in the container Mass Mixer & has a single speed, simple rotation. The stirrer rotates around itself at a very slow speed inside the bowl and thereby achieving intimate mixing of dry or wet materials of Tablet Granulation, Powder, Chemicals, and Food & Confectionaries Materials.

We deal in manufacturing and export of superior quality mass mixers, that are available in different over flow capacities, working capacities to choose from. These mixers are furnished with tilting device for easy unloading of the material. Easy to operate and clean, these machines can endure intense conditions.
Note: Dimensions & Technical Details are subject to change as per customers' requirement without any further notice.





Pharmaceutical Equipment, Pharma Machinery, Machninery, Injectable machinery, Sterilizer, Tablet manufacturing machinery, Blender, Paste Kettle
<