Double Cone Blender Machine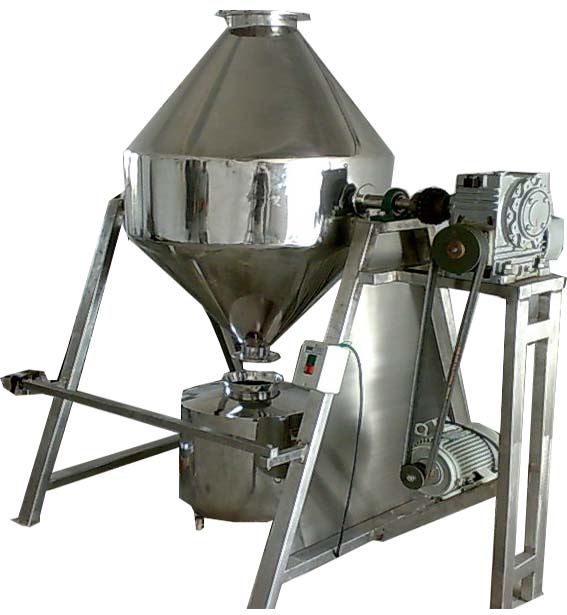 Double Cone Blender has Capacity from 10 Liters upto 3500 Liters, double cone blender is an efficient for mixing dry powder and granulates homogeneously. All the contact parts are made of stainless steel. Two-thirds of the volume of the Cone Blender is filled to ensure proper mixing. It can be used for Pharmaceutical, Food, Chemical and Cosmetic products etc.
Salient Features
The conical shape at both ends ends enables uniform mixing and easy discharge

The cone is statically balanced to avoid anyexcessive load on the gear box and motor.

While the powder can be loaded into the conethrough a wider opening, It can be discharged through a mucon valve or a slide valve

Depending upon the product, paddle types baffles can be provided on the shaft for better mixing

Maximum care has been taken ensure safe operation of he unit. It can also be operated by a timer

The contact parts are either made of SS 304 or 316

Flame proof motor can be supplied as optional

Capacity 10 Ltrs. to 5000 Ltrs.
Model
Brim
Working
Power
Speed
Discharge
Dimensions
Capacity
Capacity

L
B
H
Litres
Litres
HP
RPM
Inches
mm
mm
mm
DCB5
17
10
0.5
25
4
800
450
1200
DCB10
35
20
0.5
25
4
800
600
1200
DCB25
100
50
1
25
4
1000
800
1200
DCB50
175
100
2
25
4
1200
1000
1400
DCB100
350
200
3
25
6
1250
1250
1400
DCB150
500
300
3
25
6
1350
1350
1400
DCB200
700
400
5
20
6
1400
1500
1500
DCB250
850
500
5
20
6
1500
1800
1800
DCB500
1750
1000
7.5
20
8
1800
2200
2200
DCB1000
3500
2000
10
15
8
2000
2400
2400
Double Cone Blender India, Powder Mixer India, Ribbon Blender India, High Shear Mixer India, Paddle Mixer India, Industrial Mixer India, Nauta Mixer India, Conical Blender Mixer India
<