PVA Emulsion Resin Plant
All the specifications and requirements are taken into consideration and well implemented during design and development. We work on various parameters like dimensional accuracy, shapes, sizes and make sure we end up satisfying the clients to the fullest. We offer our customers highly qualitative and extremely robust, economical and highly effective PVA Emulsion Resin Plants. Our team members make sure that every product supplied fulfills the specific standards as desired by our clients.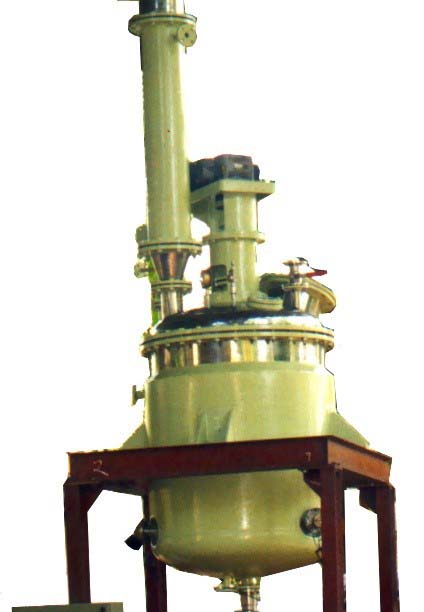 PVA Emulsion Resin Plant Emulsion Resin Plant offered are used for getting end product Emulsion that comprises solvent free binders finding application in preparation of paints as well as coatings. Manufactured through polymerization process where monomers are dispersed in aqueous phase for getting uniform & stable emulsion, these paints as well as coatings which are based on emulsion systems deliver quality performance and are also environment friendly. Features: High performance and latest technology based Emulsion Resin Plants Emulsions processed comprise solvent free binders that find usage in preparation of paints as well as coatings Emulsions manufactured through polymerization process Paints and coatings are superior in performance and environment friendly Emulsions having excellent binding properties Raw Materials: Emulsifier Monomer Catalyst Activators Acids Additives Man Power Requirement: Up to 5000 kgs batch plant you require one supervisor, one operator and three work men





Where it is used
Main application of PVA Emulsion
As an emulsion in water, PVAc emulsions are used as adhesives for porous materials, particularly for wood, paper, and cloth, and as a consolidant for porous building stone, in particular sandstone.
as wood glue PVAc is known as "white glue" and the yellow "carpenter's glue" or PVA glue.
as paper adhesive during paper packaging converting
in bookbinding and book arts, due to its flexible strong bond and non-acidic nature (unlike many other polymers). The use of PVAC on the Archimedes Palimpsest during the 20th century greatly hindered the task of disbinding the book and preserving and imaging the pages in the early 21st century, in part because the glue was stronger than the parchment it held together.
in handcrafts
as envelope adhesive
as wallpaper adhesive
as a primer for drywall
The stiff homopolymer PVAc, but mostly the more soft copolymer, a combination of vinyl acetate and ethylene, vinyl acetate ethylene (VAE), is used also in paper coatings, paint and other industrial coatings, as binder in nonwovens in glass fibers. sanitary napkins, filter paper and in textile finishing. The two/ three arm bi-axial rotomoulding machine is mainly used for the application where the time of each procedure is same. It is very precise and efficient for the applications of the heating chamber, the cooling chambers and one or two application areas, depending upon the types of the machine.
---
Well Known Features:
High performance and latest technology based Emulsion Resin Plants
Emulsions processed comprise solvent free binders that find usage in preparation of paints as well as coatings
Emulsions manufactured through polymerization process
Paints and coatings are superior in performance and environment friendly
Emulsions having excellent binding properties
Raw Materials:
Emulsifier
Monomer
Catalyst
Activators
Acids
Additives


Man Power Requirement:
Up to 5000 kgs batch plant you require one supervisor, one operator and three work men
SEND YOUR VALUABLE INQUIIRY TO SALES@ABFINDIA.CO.IN