HIGH VISCOSITY BUTTERFLY TWIN SHAFTS MIXER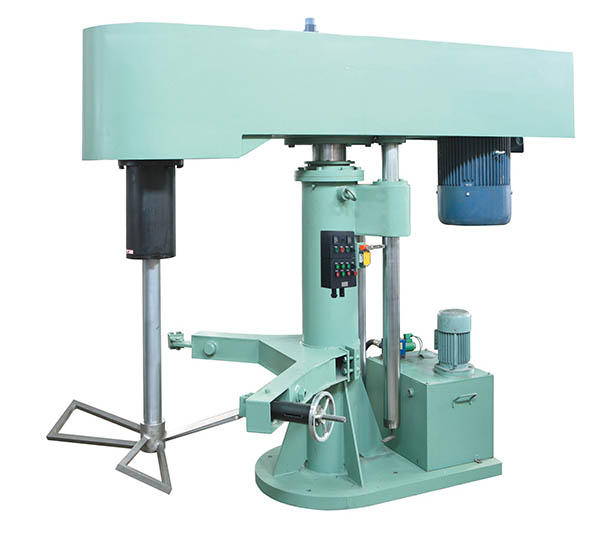 Butterfly Hydraulic Disperser is Suitable for Paint, Pigment, Dyestuff, Coating Printing Ink, for mixing, Dispersing, grinding
Best use of Disperser is to dissolve and disperseion of Liquid and Liquid with solids.
Disperser is availabe in Manual or Hydraulic Up and Down Arrangment.
High Speed Dispersion machine has Starting Capacity Ranging from 50 litrer to 1000 liters
Suitable for Putty, Primers, Distempers, Plastic paint , Exterior emulsions & premium wall finishes for Paint, Pigment, Dyestuff, Coating Printing Ink, for mixing, Dispersing, grinding.

Applications:
Paints, Inks, Pigments, PU Resin, Silicon glues, Foodstuff, Dyestuffs, Ointments, Cosmetic... etc high viscosity dispersion.
Characteristics:
Butterfly two shafts mixer aims at thick and high viscosity liquid materials. The central low speed designs the butterfly type impeller with Teflon scrapers, Teflon scraper can remove the adhered material which mass on inside tank wall and inside tank bottom into the mixing circulation for completely mixing. Mixing shaft can lift up and down for better mixing quality. One high speed shaft will make one high speed whirlpools, one low speed shaft will make another circulation, Those circulations come cross to make the best kneading twisting and dispersing effects for raw materials in tank.
The parts which will touching the raw material are made of #304 stainless steel.
Machine designs the arm holder to fix the tank while mixing.
High speed serrate impeller runs from 0~1500rpm, Low speed butterfly impeller runs from 0~60rpm.
Available viscosity 100.,000cps.
HSD5.5

HSD7.5

HSD11

HSD15

HSD18.5

HSD22

HSD30

Main motor power (kW)

5.5

7.5

11

15

18.5

22

30

Dispersion shaft speed (r/min)

0-1500

0-1200

0-1000

Height of shaft lifting (mm)

900

1200

1400

Estimated processing batch≤L(we take water as example)

350

400

450

500

700

1000

1500

Dispersion discs diameter (mm)

L

1655

2150

2120

W

570

800

900

H

Net weight (kg)

1140

1155

1165

1830

1850

1885

2000
Note: Above data may be change without prior notice
Ribbon Blender / Pug Mixer | Sigma Kneader | Twin Shaft Disperser
High Speed Disperser | Ball Mill | Process Reactors | Disperser manufacturer Homoginizer - emulsifier | Twin Shaft Disperser manufacturering Company