Tray Dryer
Tray dryers are broadly used by pharmaceuticals, chemicals, dyes and food industries for the purpose of roasting, drying, heating. We are providing these trays in the model where the size ranges from 12 to 192 trays and even bigger as per clients requirements..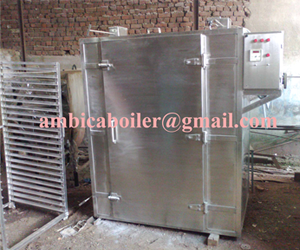 Application Area:
Pharmaceuticals
Food
Chemicals
Paints
Textiles & other industries
FEATURES
Model: Standard model, GMP Model available
Fan is dynamically balanced with specially sealed bearing to withstand the high temperature
Heating Arrangement - Electrical / Steam heating
Designed for uniform circulation of hot air in the drying chamber
Tunnel type dryers wherein trolleys are placed one behind the other and double door loading
Electric heater terminals situated outside the hot zone in case of electrically heated dryers. Heaters are accessible and replaceable from outside the dryer
The front doors are explosion proof and are locked with the help of spring loaded ball latches with suitable pressure
Tray size is 16 x 32 x 1.25 (h) inches
Capacity: 6 to 240 trays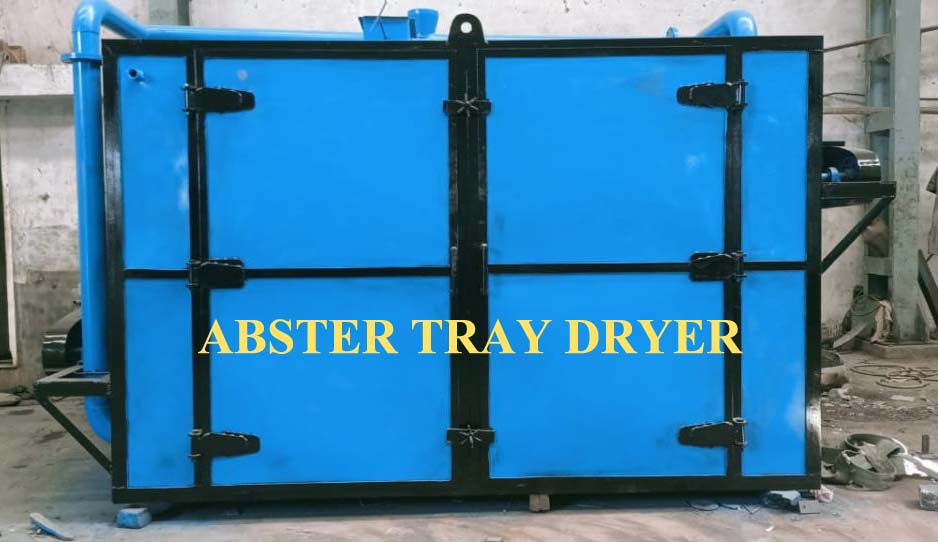 Tray Dryer Specification
Model
TD-12
TD-24
TD-48
TD-96
TD-192
Loading Capacity
12 Trays
24 Trays
48 Trays
96 Trays
192 Trays
No. of Doors
One
One
One
Two
Two
No. of Blowers
One
One
One
Two
Four
No. of Motors / H.P.
1 / 0.5 H.P.
1 / 0.5 H.P.
1 / 1 H.P.
2 / 1 H.P.
4 / 1 H.P. each
3 phase 415 volts
3 phase 415 volts
3 phase 415 volts
3 phase 415 volts
3 phase 415 volts
3 phase 415 volts
Electrical Heating Load for
100°C / 200°C / 300°C
3kw/6kw/9kw
6kw/9kw/12kw
9kw/15kw/18kw
15kw/21kw/27kw
36kw/42kw/48kw
Steam Heater No. of coils.
2
2
2
2
2
Steam Pressure
3.3 kg / cm2
3.3 kg / cm2
3.3 kg / cm2
3.3 kg / cm2
3.3 kg / cm2
Steam Consumption
25 LBS / hr
45 LBS / hr
60 LBS / hr
80 LBS / hr
120 LBS / hr
Insulation in mm
100°C / 200°C / 300°C
50 / 75 /75
50 / 75 /75
50 / 75 /75
50 / 75 /75
50 / 75 /75
No of Trolleys
Rack System
Rack System
One
Two
Four
Tray Size
812 x 406 x 31
812 x 406 x 31
812 x 406 x 31
812 x 406 x 31
812 x 406 x 31
Trolley Dimension
Fixed Racks
Fixed Racks
840 x 960 x 1780
840 x 960 x 1780
840 x 960 x 1780
Tray Dryer GMP Model – tray dryer Working Principle with 12 tray dryer, 24 tray dryer 48 tray dryer, 96 tray dryer, 192 tray dryer, Hot Air tray dryer. Cabinet tray dryer and Vacuum tray Dryers with stainless Steel contact parts 304 and 316 , 316 L.
Description:
Tray Dryer Steam Operated 30'c To 100'c G.M.P. Model With S.S. 304 Externals & S.S. 316L Internals.
Salient Features:
Construction:
EXTERNAL: 2MM THKINTERNAL: 2MM THKMOC: CGMP
Surface Finish:
EXTERNAL: Buffed to 150 grit matt finish INTERNAL: Buffed to 220 grit mirror finish.
Inlet & Outlet:
All dryers have a 5 micron pre filter r at the inlet and a manually infinite adjustable damper at the outlet.
Door:
Doors at provided at the front and / or rear side of the dryer. Door lips are lined with silicon rubber gasket to prevent any leakages. Suitable locking is provided for the doors.
Air Circulation:
Air circulation is done by specially designed recirculation blowers inside the dryer. The blower capacity, static & design depends on the size and model of dryer.
Heating:
Dryers are normally supplied with steam/ electric/ thermo fluid / hot water heating system. Suitable heating coils / clarifiers are provided in the dryers.
Temperature Control:
Temp control system is done by electronic digital temp controller fitted in the control panel. The temp control in the dryer is fully automatic.
Trays:
Trays are available in S.S. 304/ 316 q. All trays are fully die pressed and with coved corners. Trays are buffed to mirror finish. Trays are also available in aluminium / Polypropylene / Frap/ M.S. galvanized as per clients requirements.
Trolley:
Trolley is provided in the dryers to accommodate trays in it. Trolley trucks are used to load and unload the trays into the dryer.
Control Panel:
Automatic Control panel is fitted on the side of the dryer. If consists of Starters, contactors, safety relays, ckt breakers, indicating lamps, push buttons , timers, controllers etc.