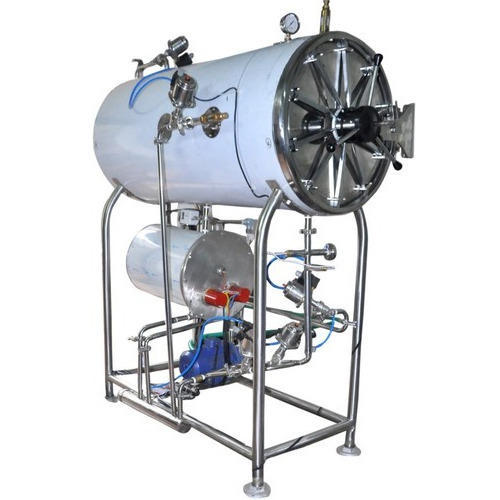 We are leading manufacturer and trader of Steam Sterilizer.
Product Details:
Vacuum System: Mechanical removal of air initially from within the chamber with the use of a vacuum system ensures that no air-pockets hinder the steam penetration and hence the sterilization process.
Steam Sterilizer for sterilization of varied Hospital equipment like gloves, linen, gauze, cotton, instruments, glassware, using standard 121°C & 134°C cycles which are pre-programmed in the memory of the PLC / Microprocessor
Electrical Steam-generator provided for all models up to a chamber volume of 1000 liters.
Temperature uniformly and accurately maintained throughout the chamber to within ± 0.5°C of the Set Sterilization temperature.
Air Filter: 0.02-micron clean air filter for stabilization of the internal air-pressure from vacuum condition.
Door safety: Door is automatically locked when a chamber is under pressure. For double door models, both doors will not open simultaneously to ensure sterile chain integrity.
Safety: Jacket and Chamber Safety valves provided.
Chamber Fabrication: Chamber fabricated out of SS 304 / S316 grade steel. Heavy duty Steel Jacket encircles and strengthens the chamber.
All machines are available with conventional hinged doors, or Modern Automatic sliding door options
Double wall design ensures uniform and rapid preheating of the chamber
The flush mounted panel provided on the sterile side on request, ensuring separation from the unmonitored environment of the operating side.
Steam Sterilizer Sterility assurance through Automation:
During Sterilization a Microprocessor / PLC controls temperature, Pressure, Steam Injection, Sterilization time, Drying and all other critical time-based parameters
Important sterilization parameters like Phase Status, Current Values & set values, continuously displayed at all times on Controller Screen & on Remote Computer via SCADA software
Continuous display of Temperature and Pressure On-line allows the user to be aware of Cycle status at all times
Error Code and the alarm are generated and the cycle stops automatically in case any error occurs. A computer screen displays error, possible cause, and remedy
Reports are available in Data, Summary and Graph formats for every batch of goods sterilized
Specifications:
Cylindrical Horizontal Autoclaves (Steam Sterilizer For Hospital Use Standard Size)
Chamber Diameter (Mm) Chamber Depth (Mm) Chamber Volume (Liters) Steam Generator Capacity (Liters / Kw) Floor Space (Width X Depth)
400 600 81 45 / 18 990 / 1800
500 900 185 55 / 36 1200 / 2300
500 1200 248 55 / 36 1200 / 2700

---
Durable Stainless steel Construction
Hydraulic testing up to 2.5 times the working pressure
Safe for operator and samples.
Our Horizontal Autoclave or Horizontal Sterilizer units come with durable construction made of 304 grade stainless steel. This machines have external chamber, internal chamber, boiler, lid and jacket - all made of 304 grade stainless steel.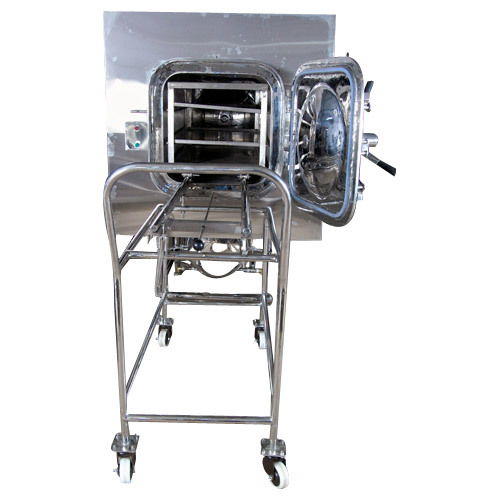 For controlling sterilization cycle, a three way valve or a multiport valve made of stainless steel is used for controlling sterilization cycle effectively. The pressure inside the chamber is variable from 5 to 30 psi. For completely safe operation of the unit, it is supplied equipping with vacuum breaker, water level indicator, steam trap and automatic pressure control switch. The whole unit of horizontal autoclave is mounted on a robust tubular stand. Power supply required to run this autoclave is 3 phase 440 Volts, on request single phase operation can also be designed.

The standard range comes with internal tank volume range from 78 to 360 liters, however on specific requirement of customer, depend on usage these can further upgraded up to maximum 600 liters. Customers who require below 78 liters horizontal autoclave models these can also be designed on order.

<