Industrial Bio Reactor
We also have Production Scale Fermenter. Backed with vast industrial experience we are the famous manufacturers of Plant Growth Promoters. Our products are highly applauded for its high yield productivity and cost effectiveness. Plant Growth Promoter facilitates the photosynthetic process and helps to enhance the process of respiration.Being environment friendly they are non poisonous and free from harmful chemicals. They acts as an ayurvedic plant boosters and functions as a catalyst in the photosynthetic process.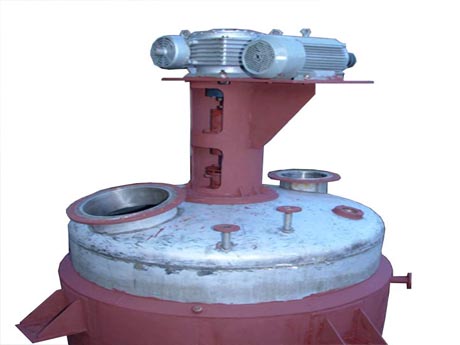 Abster Equipment Production Scale Fermenter offered comprise new skid mounted Pilot Scale Fermenter of 50 ltr to 500 ltr capacity. These come with centrifuge which functions as four-point machine to handle heavy loads as well as centrifugal forces. With these Pilot Scale Fer mentors engineered with complete precision, we also ensure these come fitted with in-built parts that are high in terms of finish quality as well as are backed by advanced process technology support so as to meet the specific end requirements of the customers. Further, we can also customize the settings as per the specific needs of the customers.
Abster Equipment Fermener/Bioreactor offer for various application like Biopharma, Food, Alage,, Beverage, Textile, Bio Fermenter, Microbial Cell Culture, Anaerobic, Aerobic, Biodiesel, Liquid Bio Fertilizer, Bio Pesticide, BioFuel, Enzyme, Primary metabolize, Secondary metabolize
Features Of Reactor
Ideal for Liquid Biofertilizer Manufacturing/ Production Plant

Dinitrogen Pentoxide Manufacturing// Production Plant
Biofertilizer Manufacturing Production Plant
Biodiesel Production Unit,
Biopharma Manufacturing/ Production Plant,
Fermentation Food Manufacturing/ Production Plant
Alage Manufacturing/ Production Plant,,
Beverage Manufacturing/ Production Plant
Textile Enzyme Manufacturing/ Production Plant
Bio Fermenter Manufacturing/ Production Plant
Microbial Manufacturing/ Production Plant
Cell Culture Manufacturing/ Production Plant
Anaerobic Fermenter Manufacturing/ Production Plant
Aerobic Fermenter Manufacturing/ Production Plant
Bio Pesticide Manufacturing/ Production Plant
BioFuel Manufacturing/ Production Plant
Enzyme Manufacturing/ Production Plant
Primary metabolize Manufacturing/ Production Plant
Secondary metabolize Manufacturing/ Production Plant
Pre Biotech Manufacturing/ Production Plant
Pro Biotech Manufacturing/ Production Plant
Bio Surfactant Manufacturing/ Production Plant
Industrial Fermentor for making Biofertilizer,Industrial Reactor, Industrial Reactor in Mumbai, Mumbai Industrial Reactor, Industrial Reactor in India, Indian Industrial Reactor, Industrial Reactor, Double, Cone, Blender, manufacturers, exporters, Mumbai, India, Industrial Reactors, Industrial Reactor Machine, Industrial Industrial Reactor,Industrial Reactor production centers, Industrial Reactor machine supplies, industrial Industrial Reactors, Manufacturers of Industrial Reactor, Industrial Reactors, Industrial Reactor machine, Industrial Reactor exporters, Industrial Reactor wholesalers, Industrial Reactor machine, industrial Industrial Reactor,industrial Industrial Reactor, pharmaceutical Industrial Reactor, Industrial Reactor manufacturer, Industrial Reactors supplier,Industrial Reactor Suppliers & Exporters, Industrial Reactor manufacturers, Industrial Reactor companies
Products
Tags
Industrial Reactor, Industrial Reactor in Mumbai, Mumbai Industrial Reactor, Industrial Reactor in India, Indian Industrial Reactor, Industrial Reactor, Double, Cone, Blender, manufacturers, exporters, Mumbai, India, Industrial Reactors, Industrial Reactor Machine, Industrial Industrial Reactor,Industrial Reactor production centers, Industrial Reactor machine supplies, industrial Industrial Reactors, Manufacturers of Industrial Reactor, Industrial Reactors, Industrial Reactor machine, Industrial Reactor exporters, Industrial Reactor wholesalers, Industrial Reactor machine, industrial Industrial Reactor,industrial Industrial Reactor, pharmaceutical Industrial Reactor, Industrial Reactor manufacturer, Industrial Reactors supplier,Industrial Reactor Suppliers & Exporters, Industrial Reactor manufacturers, Industrial Reactor companies,