Dispersing, Suspending, Emulsifying & Homogenizing Technik for Liquid and Paste
Rapid Mixer Granulator is designed to meet special needs of tablet manufacturing technology. This is achieved by reducing processing time, more homogenous mixing, Uniformity of Granule size and above all maintaining improved hygiene compliant to GMP norm.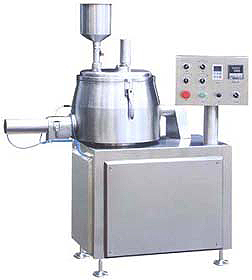 INTRODUCTION:
Machine will be complete with Mixing Bowl, Mixing Blades, Granulator, Pneumatic Discharge, Motor, Gear Box, Operating Panel and the Control Panel.
MIXING BOWL:
The Mixing Bowl is cylindrical with a large diameter and flat base. The Top portion of the bowl is conical in shape to assist circulation of cohesive powders. The Bowl is fabricated from S.S. 316 Quality Stainless Steel with all internal and external surfaces polished to mirror finish.

TOP LID:

Pneumatically Openable (except RMG 50 & 100LTRS) type lid consists of charging hole, air filter and special type silicon gasket.

MIXING BLADE:

Mixing blade consisting of two Nos. full and two Nos. half blades specially designed for intense mixing. The angles of the blades are such that half blades lift the material and full blade pushes the material. Continuous action of this with the different ingredient immensely mixes thoroughly with homogeneously. Mixing blade assembly is mounted on main shaft with separate bearing housing which fully eliminate any chance of cross contamination of product with any lubricants. The upper portion of the housing contains specially designed Teflon seal along with air purging facility. Lower stage housing contains bearing along with oil seals that make it completely leak proof.

GRANULATING BLADE:

A high speed Granulator is inserted horizontally through the wall of the bowl to assist blending of powder and to break the lumps of the products in to granules of required sizes. These lumps are formed while wet mixing.

DISCHARGE VALVE:

Machine has a side discharge outlet with pneumatically operated. The discharge valve is exactly matching the profile of the intervene bowl with perfect sealing arrangement. Pneumatic cylinder housing is specially designed with swivel type arrangement, which helps for easy cleaning. Safety interlocks are provided to discharge valve as well as top lid with limit switches.

MACHINE BASE:

Rigid Machine base frame made from M.S. Square pipe is designed to accommodate the mixing bowl and the control panel. The motor V belt drive and reduction gear are also housed in the frame. The machine base is totally enclosed and removable flush type S.S give access to motor gearbox and belt drive inside and machine base. Removable S.S. Cover finished mirroring finish on all side of the machine base frame. Inside of the M.S. base frame duly epoxy painted to avoid any rusting. The bottom of the base frame duly covered with M.S. Sheet. So that any oil or dust from belt should not fall on the floor.

ELECTRIC CONTROL PANEL- MAIN PANEL

All the main Circuit like Switchgears, Relays, and MCBs etc. will be contained in a S.S. Panel box and kept in Non Flame Proof area.

PROCESS TIMER

SAMS make Process Unit with programmable digital timer, auto mode indicating lapsed/balance time etc.

OPERATING PANEL

An Operating Panel mounted near the mixing bowl for the easy operation in the case of NON FLP MOTOR. In FLP only Flame Proof Operating unit provided near the Bowl with auto manual switch, Emergency stop and push buttons for main motor, chopper motor Discharge valve open and close, ammeter for main motor and chopper motor.

PNEUMATICS SYSTEMS

The machine is supplied with duly required pneumatic systems of FESTO/CAMOZZI Make. The customer has to ensure, supply of oil free compressed air, also free from any other possible impurity, which may contaminate the product. Air filter and Air water separator are also provided with the machine. Pressure regulator is provided to regulate the desired air pressure. The systems is suitable to accept an Input air pressure of 7kg/cm2 to be terminated at ½" " BSP" terminal. Air lubricator is provided to lubricate solenoid valves and pneumatic cylinders is incorporated in the system.

PRESSURE SWITCH

A Pressure Switch is incorporated in the Pneumatic circuit to ensure that unless required minim air pressure is available in the system the machine cannot be started. And once the machine starts and if drop below pre-set the value the machine stops immediately. In case the Flame Proof Machine the pressure Switch is fitted in main panel. All M.S. parts will be cladded with SS 304Q sheet and all SS parts will be polished to smooth surface.

Standard Processing Duration :
Dry Mixing approx 3 - 5 Mins
Wet Mixing approx 5 - 10 Mins

Wet Granulation approx 5 - 10 Mins

Discharge approx 1-15 Mins
Rmg Improved Processing :
Uniform distribution of all formulation ingredients.
Short mixing and granulation time.
Useful working capacity of upto 80% to 40% of bowl volume.
Uniform granules by gentle processing.
Wide range of applications.
Easy scale up & Scale down between machine sizes.
Bowl shape design to have no dead spaces.
Rapid Mixer Granulator's can be offered in 10Ltrs. R&D & 25Ltr. / 50Ltr. For R&D or pilot plants. The process parameters derived in the Lab/Pilot scaled up into production machines. These machines can also be offered with PLC'S.
Technical Specifications :

Model
ABFRMG-100
ABFRMG-150
ABFRMG-250
ABFRMG-400
Gross capacity (ltrs.)
100
150
250
400
Working capacity (lits.)
80
120
200
320
Batch Size in Kg.
20-30
30-60
50-100
75-150
Mixer Motor
7.5 HP / 10 HP
10 HP / 15 HP
22.5 HP / 30 HP
35 HP / 40 HP
Mixer RPM
75/11500
750/1500
750/1500
750/1500
Granulator Motor
2 HP / 3 HP
3 HP /5 HP
3 HP / 5 HP
5 HP / 7.5 HP
Granulator RPM
Overall Dimentions
1500/3000
1500/3000
1500/3000
1500/3000
Length (cm)
240
240
270
280
Width (cm)
210
210
220
240
Hight (Lid closed) (cm)
200
200
210
215kg
Net Weight (approx)
1400 kg
1600 kg
1800 kg
2400 kg
*Technical Specifications are subject to change due to continous technical upgradation.
| | | | | | | |
| --- | --- | --- | --- | --- | --- | --- |
| Model | A-Total Length | B-Platfor Length | C-Width | D-Platfor | E-Open lid height | NT. WT. |
| 25 L | 1990 | 1350 | 925 | 700 | 1680 | 700 |
| 100 L | 2290 | 1550 | 1170 | 795 | 2190 | 900 |
| 150 L | 2390 | 1590 | 1960 | 1700 | 2275 | 2000 |
| 250 L | 2550 | 1690 | 2130 | 1760 | 2585 | 2800 |
| 400 L | 2880 | 2040 | 2450 | 1960 | 2960 | 3000 |
| 600 L | 3100 | 2240 | 2640 | 2080 | 3440 | 3500 |
| 1000 L | 3250 | 2500 | 3150 | 2650 | 3250 | 4000 |