Shampoo Mixing Machine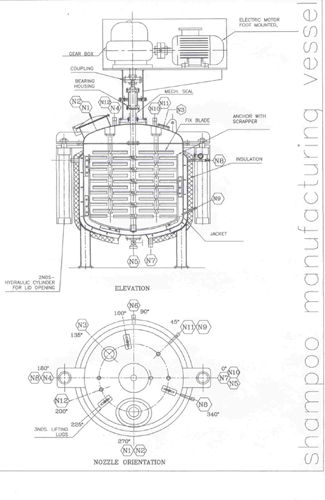 We are leading manufacturer, supplier & exporter of Shampoo Mixers in Gujarat, India.
TheShampoo Mixers assemblies are consists of series of paddles types blades, pitched or flat, of appropriate shape. Here two consecutive blades move in opposite direction which creates laminar thinning of the material & facilitates uniform mix. Paddle type blades mounted on scrapping arms & welded to hollow shaft, have independent drive & has bottom support also. Paddles mounted on internal shaft creates relative movement of the material.

The vessel shall be suitable for 700mm vacuum and internal pressure of 3 kgs/CM2. There will be a suitable outlet provided for the product discharge.

Paddles mounted on internal shaft & hollow shaft rotates in anti-clockwise & clockwise direction respectively. The Shampoo Mixer is designed & fabricated to withstand perfect vacuum applied during the process for optimum mixing & to eliminate air entrapment as surfactant has tendency of forming suds.

The Shampoo vessel shall have a shell of suitable thickness with a hemispherical bottom and flanged top dish made out of S.S.304 plate. There is provision of bottom entry homogenizer in the same vessel which homogenizes all ingredients & hence there is no need to go for external inline homogenizer otherwise problem of aeration will increase process time.
SS Jacketed Shampoo Mixing Vessel is a main reactor to mix shampoo, liquid soap, lotion, Oil, Syrup etc.
Inner Shell is made of suitable thick SS 316 material. Both top & bottom dish ends
Shampoo Mixer Agitator will be of paddle type stirrer mounted on a thrust bearing housing
Main Mixing vessel is supported by 3 nos. of legs and bottom discharge
The vessel is insulated (asbestos free ) with SS/MS material of suitable thick sheet
Products
Tags
shampoo mixer