Liquid detergent & shampoo mixing making machine
This machine is suitable for manufacturing various liquid products (such as detergent, shampoo, shower gel etc). It integrates mixing, homogenizing, heating, cooling, pump discharge finished products and defoaming (optional) functions. It is the ideal equipment for liquid products in domestic and international factories.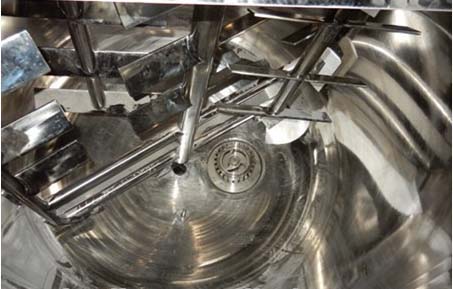 Features and Advantages
1. The blending system adopts single-direction or double-direction wall scraping blending and frequency converter for speed adjustment to satisfy production of high quality products according to customer requirements.
2. According to technological requirement, the tank can heat and cool materials. The heating way including steam heating and electric heating for choice.
3. The jacketed pot is welded by imported three-layer stainless steel plate. The tank body and the pipes adopt mirror polishing, which fully conforms to GMP requirements.
4. Various forms of blending vanes are suitable for production of different types of products.
5. Easy to discharge, bottom direct discharge or by transfer pump.
6. Made of imported SUS304 or SUS316L stainless steel. The mixing tank body and pipe are subjected to mirror polishing.
Technical Parameter
Model

Effective Capacity

(L)

Stirring power and speed

Homogeneous power and speed

Heating power

KW

r/min

KW

r/min

Electric heating

Steam heating

ABFSMM-50

50

0.75

0-65

3

2800

6KW

Steam heating energy conservation and environmental protection, selected according to need.

ABFSMM-100

100

1.5

0-65

1.5

2800

12KW

ABFSMM-150

150

1.5

0-65

1.5

2800

12KW

ABFSMM-200

200

1.5

0-65

3

2800

18KW

ABFSMM-300

300

1.5

0-65

3

2800

18KW

ABFSMM-500

500

2.2

0-65

4

2800

27KW

ABFSMM-1000

1000

4

0-65

7.5

2800

36KW

ABFSMM-1500

1500

4

0-65

11

1400

45KW

ABFSMM-2000

2000

5.5

0-65

11

1400

Recommended Jacketed steam heating

ABFSMM-2800

2800

7.5

0-55

15

1500

ABFSMM-5000

5000

11

0-55

22

1500
Widely Used For Following Industries 1.Cosmetic Industry: Cream, Paste,Lotion, Shampoo,shower gel,laundry detergent,etc Skin Care Products: Baby Lotion Hand & Body Lotion Antiaging Lotion Hand Sanitizer Skin Lightening Body Scrubs Body Wash Hand Soap Skin Toner Hair Care Products: Hair Coloring Shampoo Hair Coloring Cream Anti Chute Lotion Hair Pomade Shampoo Conditioners Styling Gel 2.Pharmaceutical Industry: Ointment, Syrup,etc 3.Food Industry: Mayonnaise, Jam, Butter, Margarine.etc

<