Solution Preparation vessel
ABFINDIA has been designed & manufacturing Solution preparation vessels, Reactor and storage tank and has consolidated a process as customer needs.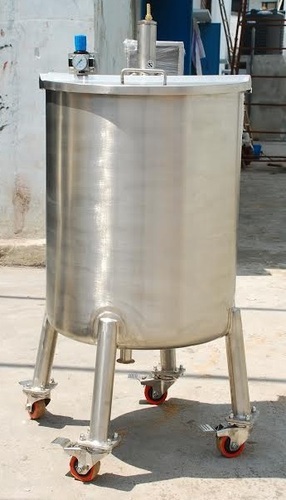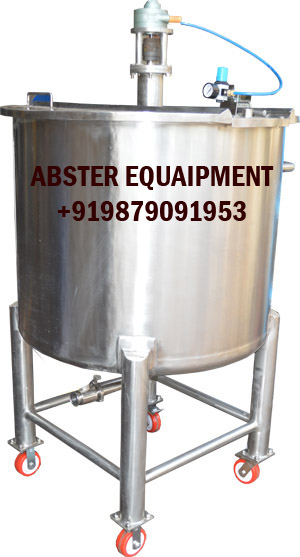 PREPARATION VESSELS, REACTOR & TANK:
Design compliance with cGMP
Capacity up to 25,000 Liter.
Product Contact AISI 316L.
Vertical & Horizontal design
Atmospheric, Vacuum or Pressure Operation.
Plain, Jacket for heating & cooling.
Option for Heating by steam, hot water or tharic fluid oil & Electric heater
Thermal Insulated.
Mechanicals or Electro polishing of internal surface.
Welded, flanged or hinged type cover
Integrated Cleaning in Place-CIP.
Sterilizing In Place-SIP as an Option.
Option for mounting on legs or flange.
Portable execution on request.
Validation protocols & Instrumentation celebration.
VARIABLE SPEED AGITATION:
Agitator can be top or bottom driven or magnetically driven.
Propeller type, Anchor type provided with High speed disperser or rotor-stator homogenizer.
Single or double mechanical seal.
TURN KEY PROCESS LINE:
For production, filtration, transfer and storage solution.
Pre reparation vessels.
Inline homogenizer.
Inter Connecting Pipe
Solid or sugar Charging System
Working Platform.
Product Description:
Solution tank with Variable Frequency Drive with stirrer and mount on Castor wheel for ease of movement.
Tangential discharge of solution for spraying from bottom of tank.
Manually operated ball valve at the center of tank for cleaning.
Direct motor drive for impeller and control through variable frequency drive
Anchor type impeller at maximum level of tank for mixing of minimum solution.
25 % open able type top cover for process visualization.
Jacketed tank can be provided for sugar coating application at an additional cost.
Separate liquid line will be carried out from the bottom of tank for each spray nozzle for equal flow.
Returned excess liquid line is provided in spray arm assembly which will discharge the excess liquid in to tank through returned liquid line.
Liquid Syrup Preparation vessels, Liquid oral section, Colloid Mill, Stirrer Agitator, Vacuum Homogenizer Mixer, Manufacturing Plant, Pharmaceutical syrup manufacturing process, Sugar syrup manufacturing plant, Oral Liquid Manufacturing Plant