Paddle Mixer Blender
Manufacturer & Exporter of Paddle Mixer. Our product range also comprises of Sigma Mixers, Twin Shaft Variable Speed Dispersers and Churner Machinery.
Paddle Mixer Blenders consist of a U-shaped horizontal trough and a fabricated paddle agitator. The paddle agitator includes multiple paddles positioned to move materials in opposing lateral directions and radially. The paddle design is normally applied where friable materials are being blended and when batches as small as 15% of the total capacity are going to be mixed in one blender. Paddle designs are available in working capacities to over 515 cu.ft. capacity.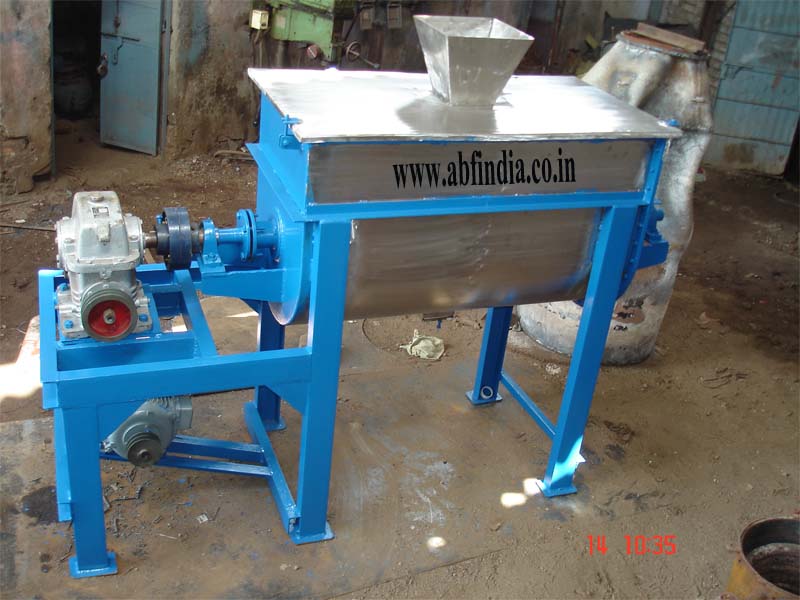 Paddle Mixer Blender
Application & Process :
The Paddle Mixer Blender is designed for uniformly wet & dry mixing and blending technology provides the ideal environment for effectively optimum mixing a wide distribution of particle size and bulk densities without segregation of powder, granular, short fibered, moist solids and liquids together with pasty substances up to and including highly viscous masses in the pharmaceutical, chemical, herbal, cosmetic, food, pesticides, detergents, and plastics industries.
Optimum mixing achieved by fluidization by combination of defined geometry lifting action with multi zoned, triple paddle stirrer rotor turning about 80 % faster than other mixer and Ribbon blender.
During mixing process fluidization assures homogeneous mixes independent of large range of particle size, shape or density in 30 to 60 second time. The paddles are positioned to move the material in opposing lateral directions as well as radically. The mixer consists of a rigid fabricated structure motor, gear box, mixing U-shaped horizontal drum and peddle type stirrer.
Paddle Mixer Blender : Blender, "V" Shape Blender Mixer, Octagonal Blender Mixer, Double Cone Blender Mixer manufacturer and supplier India