Products
Pharma process Equipment
Tags
Dry Heat Steriliser
Introduction
The Dry Heat Sterilizer is used in Pharmaceuticals and Biotechnology for sterilization and dehydrogenation of glassware, containers, vessels, machine and components.
We can offer you systems that comply with the most exacting international regulatory requirements for your critical process needs.
Our Dry Heat Sterilizers are available in two options - Class 100 and Class 10,000. We also give you a wide range of choices on the chamber capacity, loading configurations and process control and recording.
The DHS finds application for humidity sensitive materials such as glassware and metal containers that can be sterilized by steam sterilizers but cannot dehydrogenate the load.

At ABF, we assure the performance of DHS meeting the following specifications.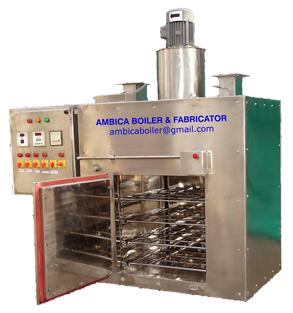 Technique:

The DHS operation is based on hot air recirculation technique.
The centrally placed load is subjected to hot air circulation by means of an impeller and heater bank arrangement.
Centrally placed impeller ensures circulation via heater bank spaced in the recirculation zone.
Clean air for recirculation is sucked via the Pressure module through a pre filter and high retention HEPA filter (99.997% efficiency)
The efficiency of DHS depends on the velocity and circulation pattern of air within the sterilization zone.



Features

The inner chamber is fabricated from S.S. 316 or S.S. 316L and is fully welded to ensure a crevice free and easy to clean environment. · Temperature Uniformity +/- 5 degree Celsius guaranteed within the chamber for the entire cycle. · STERILIZATION efficiency of 12 log reduction. · HEPA filter of 99.97% performance for clean air. · Extended shaft motor for chamber recirculation. · Positive Pressure throughout the cycle for 100% Sterile integrity of the load. · Automatic plc controlled cycle with user-friendly operator interface for visual monitor and control over the entire cycle. · Blind Temperature Controller for overshoots temperature condition. · From the point of view of chamber safety, the heater bank and fan motor are electrically interlocked. · Door Interlocking to prevent simultaneous opening of both doors. · Door Process lock to prevent opening of doors when process is on. · "Sterile door lock" to prevent sterile door opening unless the sterilization cycle has been successfully completed. · Circulation Blower or heater malfunction alarm. · Automatic Fh Calculator with facility for control in case of heat labile materials. · On-line printing [alpha-numeric and graphical ] for process documentation.

Applications:

Glassware (Containers such as ampoules, vials etc.). · Metal trays. · Containers and metal material. · Machine and accessories used in production. · Various types of humidity sensitive material.
| | | |
| --- | --- | --- |
| Working Space in mm | Cubic Feet | Heating Load (kw). |
| 900 x 900 x 1200 ht. | 36 | 24 |
| 900 x 1200 x 1200 ht. | 48 | 30 |
| 1200 x 1200 x 1200 ht. | 64 | 36 |
| 1200 x 1200 x 1500 ht. | 80 | 48 |
| Or As per Customers Requirement | | |
---