Ointment Manufacturing Plant is an ideal tool for the pharmaceutical & cosmetic industries for the production of Ointment, Cream, Lotions, Tooth Paste & other emulsions & homogenizations. It is specially designed to take care of two critical factors which directly affects the quality of the Ointment/Creams.
Minimum man handling of Ointment.
Negligible vacuum drop during mixing & blending.
Needless to say, it also provides the benefits of the effective manpower utilization.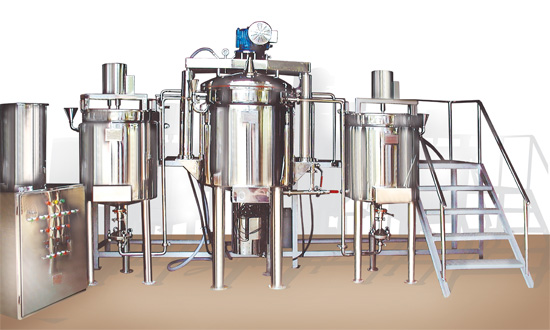 We offer Ointment Manufacturing plants those are ideal for preparation of ointment cream.


Features of Ointment Manufacturing Plant.
Easily cleanable and completely untouched process, hence less chance of contamination.
All contact parts made of Stainless Steel 316 and non contact part ss 304 material.
All pipelines are electro polished from inside and joints are easy openable.
Complete cover lifting arrangement to facilitate cleaning at the time of product change over.
Especially semi-contra & Double contra designed anchor stirrer with flexible Teflon scrapers.
The plant is provided with pre-mixing wax and water phase vessels and the main manufacturing vessel.
The main vessel is provided with a slow speed anchor agitator for mixing and a bottom high speed homogenizer for emulsifying.
Variable speed drive provided for main anchor stirrer assembly for different speeds.
Jacketed vessels for heating/cooling processes.
Inspection glass with illumination.
Specially designed inline filters can also be provided to ensure proper filtration.
Optional Requirement are :

--- Load cell for accurate weighing.
--- PLC based control panel for process automation.
--- Contra type agitator for calcium base toothpaste.
The Ointment Manufacturing Plant / Cream Manufacturing Machine is suitable for manufacturing pharmaceutical ointments, sterile preparations, cosmetic creams, suspensions, gels, etc.
Equipments of Ointment Manufacturing Plant :
Wax heating Vessel.
Water Melting Vessel.
Manufacturing vessel.
Storage vessel.
Interconnecting pipeline.
Pumps -Lobe Pump and metering pumps.
Integrated automatic control panel.
Working Platform.
Process Description of Ointment Manufacturing Plant :
All vessels are manufactured from S.S. 316 grade stainless steel sheets and are cGMP compliant construction.
The vessels are Jacketed, insulated, cladded and with suitable agitator assembly in each vessel.
Wax is melted in Wax melting vessel; Water is heated in water heating vessel.
Both wax and water are transferred into the manufacturing vessel automatically through vacuum.
In manufacturing vessel both wax and water are homogenized to make a uniform emulsion and cooled by passing chilled water into the jacket of manufacturing vessel.
After the emulsion is formed active ingredients/colors etc are added and are thoroughly mixed and homogenized.
The same is transferred by bump pump into the storage vessel. From the storage vessel it is automatically transferred into the filling machine by means of metering pump.
Flow rate of metering pump can be set as per your tube filling machines speed and capacity.
Cream vacuum emulsifier machines for cosmetic food pharmaceutical making homogenizing mixing equipment