To cater to the dynamic requirements of universal pharmaceutical industries, ABF India presents its Comprehensive range of Syrup Manufacturing Plant and Oral Liquid Manufacturing Plant. The Syrup Making Machine manufactured as per the cGMP standards ensure the precision and quality of our product. Our world class products make us the top Liquid Syrup Manufacturing Plant Manufacturer in India.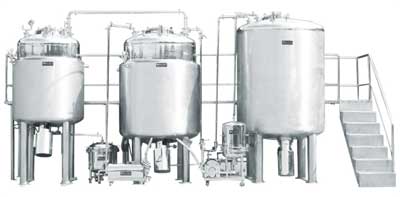 Syrup Making machine
Sugar melting vessel
Online sugar syrup pre-filter ( Basket filter )
Manufacturing vessel
Storage vessel
Transfer pumps
Piping for complete plant
Working platform
Control panel
Inline homogenizer(optional)
Salient features

The complete line is manufactured under CGMP standard.
All contact parts are made of SS316.
The plant is designed to be operated by one operator and one helper, saving on precious man – power cost.
Easy to assemble, fit and clean.
The sugar melting vessel is designed for internal vacuum to facilitate transfer of sugar directly from stores to sugar syrup vessel.
Sugar syrup is transferred to manufacturing vessel through online sugar syrup pre-filter (Basket filter) by vacuum / pump.
Entry of all propeller agitations is from bottom through a specially designed mechanical seal face.
The advantages of the bottom propeller agitator over conventional agitators – there is no vibration of shaft, no coupling in the
drive assembly, leading to lower maintenance cost, to reduce the overall height of tank.
Pipes, pipe fittings are of SS 316, seamless, internally electro-polished with silicon gaskets.
Optionally equipped with CIP & SIP facility and load cell for online weighting.
Automatic operations are ensured with PLC based control panel.
Inline Homogenizer can also be optionally provided.
Zero hold up filter press gives crystal clear filtration.
Available in various batch capacities from 500 liters to 5000 liters.
Cream vacuum emulsifier machines for cosmetic food pharmaceutical making homogenizing mixing equipment