Vacuum Tray Dryer
Vacuum Tray Dryer are used where heating and drying are essential parts of manufacturing process in industries such as Chemicals, Dye stuff, Pharmaceutical, Food Products, Colors etc. Vacuum Tray Dryer is suitable for drying of thermal sensitive material easily deteriorated under higher Temperature. It eliminates configuration damage of the drying materials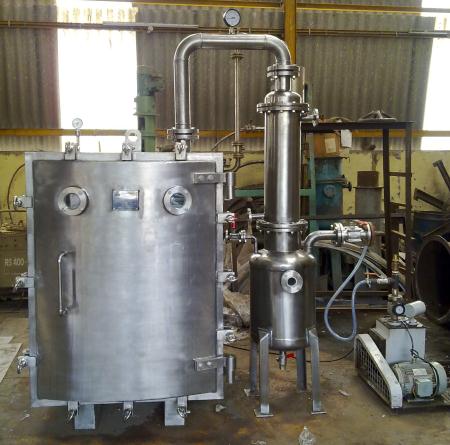 Bodies may be of cylindrical or rectangular cross section. Both shelves and body are heated (the body to prevent internal condensation) with controlled circulation of hot water, steam or dia thermic fluid. Vacuum is drawn through large diameter ducts to minimize pressure drops and produce minimum working pressures. Both rotary and static dryers can be supplied with the following Optional ancillaries.
Heater system for either pressurized hot water or dia thermic fluid.
Cyclones and sleeve filters for powder recovery (for rotary dryers)
Solvent recovery system with condenser and receiver, vacuum pump and ancillaries, characteristics and dimensions depending on the drying processes.
| | | | | | | |
| --- | --- | --- | --- | --- | --- | --- |
| model | ABFVTD 3 | ABFVTD 6 | ABFVTD 12 | ABFVTD 24 | ABFVTD 36 | ABFVTD 48 |
| no. of trays | 3 | 6 | 12 | 24 | 36 | 48 |
| capacity in kg | 03/05/12 | 12/18/12 | 25-35 | 50-75 | 75-100 | 100-150 |
| tray volume in lts /cap. in kg | 5/1-1.5 | 10/2-3 | 10/2-3 | 10/2-3 | 10/02/03 | 10/2-3 |
| tray size l w h in mm | 406 x 406 x 31 | 812 x 406 x 31 | 812 x 406 x 31 | 812 x 406 x 31 | 812 x 406 x 31 | 812 x 406 x 31 |
| no. o heating shelfs | 4 | 7 | 7 | 9 | 13 | 17 |
| shelf size in mm | 430 x 430 | 430 x 835 | 835 x 835 | 835 x 1259 | 835 x 1250 | 835 x 1250 |
| distance between shelves in mm | 100 | 100 | 100 | 100 | 100 | 100 |
| trays on each shelf | 1 | 1 | 2 | 3 | 3 | 3 |
| condensor | 0.2 m2 | 0.5 m2 | 0.75 m2 | 1 m2 | 1.5 m2 | 2 m2 |
| reciever | 10 ltrs | 25 ltrs | 50 ltrs | 75 ltrs | 100 ltrs | 150 ltrs |
| vacuum pump capacity | 1 hp | 3 hp | 3 hp | 5 hp | 5hp | 7.5 hp |
| h.W distribution pipes | 1.5 inch | 1.5 inch | 1.5 inch | 1.5 inch | 1.5 inch | 1.5 inch |
| door gasket(silicon) | 16mmsq | 16mmsq | 16mmsq | 16mmsq | 16mmsq | 16mmsq |
| no if door bolts (40 mm dia) | 4 | 8 | 10 | 10 | 12 | 12 |
Vacuum tray Dryer, VTD, Vacuum Tray Dryer manufactuer, Vacuum tray dryer exporter, Stainless Steel vacuum tray dryer manufacturer and supplier India