Sterile Water for Injection Generation Plant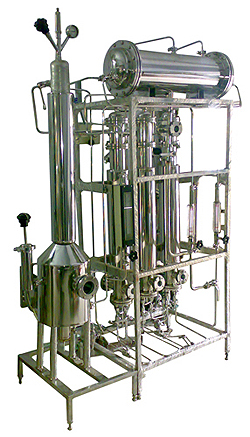 Water for Injection Plant built with AISI SS 316L materials which produces pyrogen free sterile water (Water For Injection) which meets the requirement of Indian, British & United States Pharmacopoeia. Water for Injection Plant is available in capacity from 80 liters/hour to 3000 liters/hour. The WFI produced by these plants is quite economical due to low maintenance and low operational cost.
Send Inquiry
100% pyrogen free distilled water conforming to U.S.P./B.P. specifications.
High initial cost but low operational cost.
Saving up to 70% of energy as compared to single column stills.
Low on maintenance as no moving parts except feed pump.
The unit can be operated at a higher steam pressure to get upto 50% higher output.
Automatic dumping of sub-standard distillate.
Low level controls for feed water.
Conductivity meter to continuously monitor the quality of final distillate.
water for injection plant, sterile water for injection plant, pyrogen free sterile water plant, sterile water plant, pyrogen free water for injection plant, pyrogen free sterile water for injection plant, India