Sigma Mixer with Extruder Screw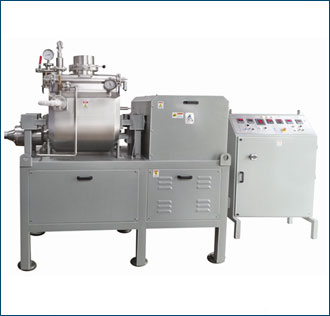 Application & Process :
The Sigma Mixer with extruder is used for mixing, kneading and extruding of highly viscous mass, sticky and dough like products, Mixing of pastes, rubber, and heavy plastic masses, applications in Food, Rubber, Pharmaceutical, Chemical and agro industries, Dry powder to wet phase mixing. This mixer is most suitable for highly viscous material and dough like masses.
The extruder mixer is designed to handle difficult to discharge products such as hot melts and butyl sealants, as well as other medium to high viscosity pastes. This type of mixer combines the action of the Double Arm Sigma Blade Mixer with an extrusion screw placed in the lower part of the mix trough. During mixing, the extrusion screw is run in reverse which imparts a third mixing action on the product, increasing mixing efficiency.
The sigma kneader is a double arm mixer with extruder, the two "Z" blade rotate towards each others at same or different speed inside a W- shaped product container and extruder screw is located between the two blade with separate gear motor drive. The extruder screw is rotates in forward direction for extruding process and rotate in reverse direction during mixing process. Speed of the extruder to be adjustable by VFD. The twin screw basin kneading machine with two horizontally arranged kneading blades, which are deeply geared into one another and strip themselves reciprocally. Each blade moves the material in opposite direction thereby providing excellent cross mixing of all raw materials. The blades pass the trough walls and each other at close clearances resulting in good mixing. The close clearance produces a shearing and tearing action that is beneficial to the size reduction of solids.
These types of machines are available in M.S. And S.S. construction. The kneader can be tilted by means of a mechanical system or manually and for bigger models beyond 250 Kgs we provided hydraulic tilting.

Hydraulic tilting system is provided with complete power pack, electric motor, pressure valves, pipes, fittings, cylinders and hoses which makes the tilting mechanism quick, easy and simple to operate.






Sigma Mixer or Sigma Kneader is generally used for heavy duty mixing, kneading, dough knaeding, uses in the Paint, Pigment, food, adhesives, chemical, pharmaceutical, dyestuff industries